About Us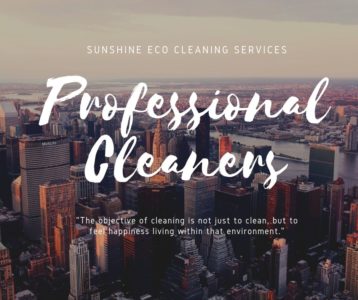 With over 12 years of experience in domestic & commercial cleaning services, Sunshine Eco Cleaning Services is one of the top players in sunshine coast, Brisbane, Sydney, Adelaide  and all over Australia. At Sunshine Eco Cleaning, we specialize in all cleaning services including Carpet Cleaning, Bond Cleaning, End of lease cleaning, Office cleaning & Window Cleaning services. All our cleaners are well trained, screened and aware of the Health and Safety standards appropriate to the cleaning industry.
At Sunshine Eco Cleaning services, we have over 100+ cleaners who offer a wide range of domestic and commercial cleaning services for Schools, Universities, Apartments, Hotels & Restaurants, Shopping Centres, Industries, Real Estates, Supermarkets and other industrial properties across the sunshine coast, Brisbane, Sydney, Adelaide, and Australia.
How We Train Cleaners?
Here at Sunshine Eco Cleaning Services, we provide meticulous training that enables our staff to handle various cleaning chores in a professional manner. We have training videos and instructional manuals that help them gain new skills and become a skilled professional. All our employees are subjected to written test and field work to evaluate their ability to work in a stimulating environment.
During training, our cleaning staff will learn about site management, equipment handling and chemical usage on various types of surfaces. With 12+ years of experience, we have the most knowledgeable instructors in the industry who enjoy sharing their expertise and experience with the most effective cleaning techniques. From apartments to large organisations, our employees are trained to work in various settings and fulfill clients' expectation.
If you are after first-class cleaning services it's best to call the professionals at Sunshine Eco Cleaning Services. We specialize in all aspects of residential, commercial and office cleaning and provide reliable and professional services. Simply book online or give us a call at 1300 356 397 to get a free quote.
Our Services:
We provide a comprehensive range of commercial cleaning and residential cleaning services throughout the Sunshine Coast, Brisbane, Adelaide and Sydney regions for a variety of clients:
Commercial Cleaning
Office Cleaning
Child care centers Cleaning
Aged Care Cleaning
Banks Cleaning
Schools and Universities Cleaning
Auditoriums & Cinema Cleaning
Gymnasiums Cleaning
Laboratories Cleaning
Dance studios Cleaning
Retail stores/ Shopping Centres Cleaning
Body Corporate areas Cleaning
Showrooms Cleaning
Warehouses Cleaning
Manufacturing facilities Cleaning
Medical centres Cleaning
Restaurant/Pubs/Bar Cleaning
Display homes Cleaning
Strata Cleaning
Housekeeping Services
Carpet Cleaning
Window Cleaning
House Cleaning
End Of Lease Cleaning
Why Sunshine Eco Cleaning Services Stand Out from other Commercial & Residential Cleaning Companies In Australia?
As we are the largest commercial and residential cleaning contractors in Australia, we have been providing the best and professional services to all business.The Core Pillars of Success in the business are as follows:
Free and No Obligation Quotes
No Lock-In Contracts
Cost Effective Quotes
Dedicated Account Managers & Supervisor
Professional and Fully Insured Cleaners
Uniformed Cleaning Staffs
Police Checked Cleaners
Eco-Friendly Cleaning Products
Customized Scope of Works
Specific Checklists for Cleaners
Unique QA Systems
Environmental & OHS Compliance
Live Cleaners Tracking
Hygiene Management
Superior Customer Services
100% Reliability
24/7 Hours Services